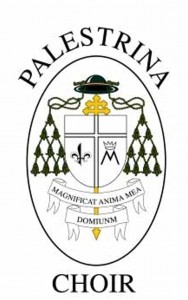 DIRECTOR:  MS. BLANAID MURPHY
Administrative Assistant to the Choir's of the Pro-Cathedral: Marijka Walsh
Contact all of above at: procathedral@dublindiocese.ie
(00 353 1) 8745441 ext 218
History of the Palestrina Choir
The Palestrina Choir had its origins in a boys' choir formed in the 1890's by Dr. Vincent O'Brien, then a music teacher at St. Mary's Place Christian Brothers School in Dublin. It was at a performance of Palestrina's Missa Papae Marcelli at St. Teresa's Carmelite Church in Clarendon Street in 1898 that this choir, and its gifted director, first came to the attention of Edward Martyn.
Martyn was born to a family of Catholic landed gentry in Tulira Castle, Co.Galway in 1859.  He was educated in Belvedere College, Dublin, Beaumont College, Windsor and Christ Church, Oxford. He is perhaps better known for his involvement in the Irish Literary Theatre, later to become the Abbey Theatre, which he co-founded in 1898 with W. B. Yeats, Lady Gregory and George Moore. However, his interest in establishing a national theatre was matched, if not exceeded, by his interest in the reform of liturgical music in Ireland. During his university days, he traveled extensively in Europe, where he was struck by the quality of the choirs he heard in the great cathedrals there. He was determined that the Catholic Church in Ireland should have music of an equivalent standard.
In particular, he wished to promote the music of Palestrina which was espoused by Pope Pius X as a standard to which liturgical music should aspire. Between 1898 and 1902, Martyn worked tirelessly to establish the choir at St. Mary's Pro-Cathedral, Dublin, offering an endowment of £10,000 (in current terms about £800,000) on condition that Dr. O'Brien was appointed choirmaster. The agreement was signed on November 26th, 1902, and the Palestrina Choir was constituted and installed in the Pro-Cathedral on January 1st, 1903.
In the century since its foundation, the Choir has had seven Directors. Dr. Vincent O'Brien, director until his death in 1948, was succeeded by his son, Oliver. In 1978,  Fr. Seán O hEarcaigh took over the baton from Oliver O'Brien. He was succeeded in 1982, by Ms. Ite O'Donovan and in 1996 by Comdt. Joseph Ryan. Ms. Órla Barry was then director for five years before being succeeded in 2002 by the current director, Ms. Blánaid Murphy.